How much attention do you pay to those ever-present gray vans emblazoned with the Amazon logo? Did you ever stop to think who owns them? And who repairs them?
The prevalence of smartphones and quick internet connections has completely and permanently changed the consumer landscape. Among these changes, Amazon has risen to become a firmly established and dominant player in nearly every industry. The e-commerce conglomerate and their promise of two-day deliveries has captured the attention and wallets of an estimated 147 million Prime members throughout the US. With so many customers to satisfy, Amazon has had to confront unparalleled logistical challenges. The pandemic-fueled online shopping sprees of American consumers following nationwide mandatory stay-at-home orders showed just how reliant we have become on modern day technological solutions to our problems.
The perpetually increasing demand for delivered products has led Amazon to reduce their dependence of traditional carriers like USPS, UPS, and FedEx. In fact, researchers approximate that in 2020, Amazon delivered 2.5 billion more of its own packages. This represents an increase of over 100% from 2.3 billion packages delivered through Amazon in 2019. Their approach to generating this delivery supply primarily relies on small businesses and independent contractors to do the work with assistance provided by the advanced software and capabilities of Amazon Logistics (AMZL).
"Delivery Service Partners," or DSPs for short, usually operate a few dozen commercial vans and are paid per route completed. The owners are classic small business entrepreneurs, meeting the needs of their clients by staying focused on speed, efficiency and customer service. The commercial vans of choice for DSPs are usually from the make of Amazon partners, e.g., the Mercedes-Benz Sprinter, Ford Transit, and Dodge Promaster. DSPs are permitted to use their own fleet of commercial vans as long as they meet Amazon's key criteria. Otherwise, most DSPs resort to renting vans from Amazon's third-party lease partners.
How Collision Repairers Play a Role
The rising prevalence of privately owned DSPs has direct implications to trends in the collision repair industry. It's a fairly simple equation: increased use of commercial vans equals increased collision repair and maintenance. This trend is not only implied, but something we have observed from our clients across the US. For some of them, Amazon DSP repairs represent one of the fastest growing segments of their business.
To adopt a similar market strategy and capitalize on this growing small fleet segment, shop owners should first identify whether their shop is reasonably near an Amazon distribution center. If a collision repair shop owner operates in a highly populated Metropolitan Statistical Area (MSA), especially one that is growing rapidly, chances are that there is an Amazon distribution center nearby. Even if a shop owner does not operate in a top MSA, they can still take advantage of this market opportunity by identifying smaller delivery stations that are used for last-mile deliveries. Currently, Amazon is in the process of investing more resources in efforts to expand its network of delivery stations across the US.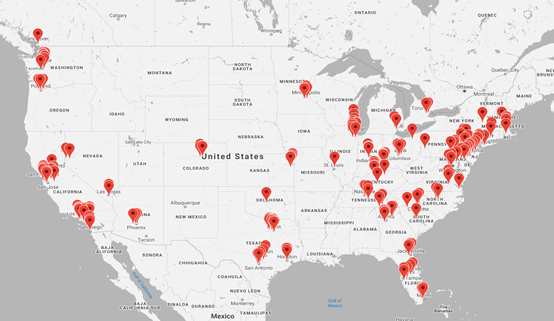 The Need for Speed
Downtime costs money for DSP operators. A DSP driver is expected to make over 30 stops per hour. As a result, drivers work in an expeditious manner that can ultimately cause more wear on the vehicle. Coupled with high mileage rates – and numerous opportunities to incur damage navigating tight spaces, streets and turnarounds – DSPs find their vehicles needing frequent repairs.
The speed of repairs is a vitally important variable to getting these vans back on the road and earning revenue for the owners, so pricing of repairs will reflect the premium on fast turnaround. Some shops have even developed mobile repair capabilities that allow DSPs to minimize downtime for the vans and keep them on the road. For MSOs and shop owners, DSP repairs are a small but growing opportunity to address the needs of small fleet operators with high on demand requirements.
When it comes to collision services, DSP vans generally have modest repair requirements, but the work is constant and demands rapid repairs to keep the vehicles on the road. Services typically range from small item replacements like door handles, mirrors, and windows to other minor body damage.
The Future of Delivery Service Partners
As the public shifts preferences towards electric and other fuel-efficient types of vehicles, Amazon is both leading with new technologies and following by rapidly adopting existing models. In 2019, Amazon co-founded The Climate Pledge in its efforts to be net-zero carbon neutral by 2040. Shortly later, Amazon announced its partnership with start-up, Rivian, investing $700 million to produce 100,000 electric trucks. As Rivian Prime trucks start hitting the road, one can expect the current DSP program and its operating base to change. Rivian vans will roll out slowly and will likely have proprietary parts. However, it is never too late to start looking for new opportunities.
In similar developments, Amazon's Prime Air program, which is still in the works, aims to provide last-mile drone delivery directly to consumers. This shifts the balance in favor of Amazon by allowing it to control even more of its distribution market share. Who knows whether there will be networks of drone DSPs! Will drone repairs become part of the repair offerings of MSOs? Ultimately, nobody has a crystal ball, but based on what we know, DSPs are still a rapidly growing segment and there is ample room for innovative operators to broaden their offerings.
Conclusion
DSPs vehicles are an accelerating fleet repair opportunity with high performance requirements and likely full value pricing. As Amazon sets its aim for reducing its dependence on traditional order fulfillment solutions, one can expect its network of distribution centers and last-mile delivery stations to continue expanding throughout the US. As a result, more collision shop owners will find themselves repairing Amazon fleet vehicles. By proactively identifying nearby opportunities, shop owners can position their businesses to capture more volume, and ultimately hold more market share in this small but growing repair segment.
About FOCUS Advisors and David Roberts
FOCUS Advisors (focusadvisors.com) is a full-service FINRA-registered M&A advisory firm serving collision industry entrepreneurs looking for advice about growth and sale options, representing them in raising capital or selling their businesses. Managing Director, David Roberts has been the industry's leading advisor to MSOs and single shops with more than 24 industry transactions in the last 6 years including recent sales of large MSOs throughout North America such as Master Collision Group, Pride Auto Body, Fix Auto USA, Fix ACAB, Price's Collision, and Herb's Body and Paint.
Investment banking and securities offered through Independent Investment Bankers, member SIPC/FINRA. Focus Advisors and Independent Investment Bankers are not affiliated.