After months of speculation about the future of Service King, a blockbuster merger was announced to Service King managers last Friday. The two consolidators will merge and create a 550+ shop operation with upwards of $2 billion in annualized sales. While still smaller than Gerber and far behind Caliber, this new entity will be competing coast to coast with its two larger national competitors, as well as six smaller super-regional MSOs: the fast-growing Classic Collision with nearly 200 shops, Joe Hudson, Collision Right, Kaizen Collision, Quality Collision, Vive Collision, and three more emerging private equity investors who have yet to reveal their first platforms.
Crash set out three years ago to compete directly with Caliber, Gerber and Service King. They found an aggressive financial partner in Alvarez & Marsal Capital. They proved they could rapidly acquire and build an extensive, experienced management team.
A New Sponsor and a Strategic Combination
For much of the last six months, Crash's investment bank was circulating an extensive investment memorandum, seeking a new private equity sponsor. The interest was substantial because of the aggressive growth under Matt Ebert's leadership, the management team he had assembled and the extensive pipeline of prospective acquisitions.
During the same period, the investors in Service King were looking for a resolution to its deteriorating financial performance. Clearlake Capital which has multiple investment mandates including investing in debt securities, acquired a control position in the Service King bonds. This position allowed them to negotiate a debt conversion to new equity and an extension of other debt obligations. In addition, Clearlake injected a reported $200 million in cash.
Crash was looking for capital to continue its rapid growth. Clearlake was looking for a partner to help manage a billion dollar investment in collision repair. The resulting merger is a combination of a deep pocketed capital sponsor, extensive management team, geographic penetration and scale that now rivals its two biggest competitors.
The Crash Champions has gained a major influx of assets and probably some cash as well. We don't know exactly what the combined balance sheet will look like but total debt to capital will be much more reasonable for the combined companies. We would expect that Crash's acquisition program would be more subdued for a period as it integrates the Service King shops. However, given the success of their program in the last 3 years, there is probably a substantial pipeline of commitments that will be completed. And the deep pockets of Clearlake will likely allow Crash to contemplate many, as well as larger, transactions.
Benefits
Huge increase in revenues and scale. Unusual opportunities to attain years' worth of acquisition and revenue growth seldom present themselves in the collision repair industry. Crash and Clearlake seized that opportunity.
Complementary footprints. Overlapping markets are strengthened while entry into new markets is extensive for Crash.
Improved negotiating power with insurance companies. Capacity in many markets is under severe constraints with longer and longer length-of-repair periods. In many markets, finding capacity for damaged vehicles is driving up reimbursement rates to the benefit of scaled operations with excess or repurposed capacity that can adjust to demand.
Improved purchasing. From paint to parts to consumables to sublet services, scale has increased the advantages to the largest consolidators.
Spreading overhead. Merging the back offices of the two entities will yield considerable savings and standardization.
Challenges
Integration. Writing checks to make acquisitions is the easy part of expanding. Integrating the operations and maintaining margins is the larger challenge. This said, Clearlake has a strong track record of building platforms and integrating add-ons.
Technician retention. Every competitor will be seeking to pry away technicians during the uncertainty of integration.
Merging management teams. Despite the prior experience of many Crash executives working for Service King, merging functions and staffing is always fraught with different operating styles, divergent histories, success and disappointments.
A Reunion of Sorts
In some ways the merger represents a reunion of key members of former Service King executives with the assets they used to manage. There are dozens of former Service King managers and executives who comprise the senior and mid-level leadership of Crash Champions. It is not unreasonable to imagine that this team has learned some new lessons since departing Service King and joining Crash that will allow them to more effectively integrate the two organizations.
Expanded Footprint
Crash Champions has been building out across the country in multiple attractive markets – Southern and Northern California, Florida, Colorado, Chicago, Wisconsin, DC and Philadelphia. Service King had an enviable footprint across the West, Southwest, Texas and Chicago.
The two firms overlapped in some markets where neither was dominant. The combined numbers in these markets are considerably more scalable and efficient. In other markets, each had considerable scale without duplicating the other's positions. With the merger, Crash enters 12 new states and several of the fastest growing metropolitan areas around the country such as Nashville, Atlanta, Oklahoma City, Omaha, Kansas City Las Vegas, Salt Lake City Little Rock and Charlotte.
The expansion from Philadelphia to Miami with major opportunities in DC, Charlotte, Atlanta and all the Florida cities provide a highly credible East Coast footprint.
In the Upper Midwest with Chicago and Wisconsin, Detroit and Ohio, Crash stakes out another region for further expansion.
In the Mountain and Southwest states, Crash becomes a dominant player from Idaho and Montana to Arizona including Denver, Salt Lake City, Las Vegas and Phoenix.
National Map
The best markets however are the largest. First Texas, then Northern and Southern California, Seattle and Florida.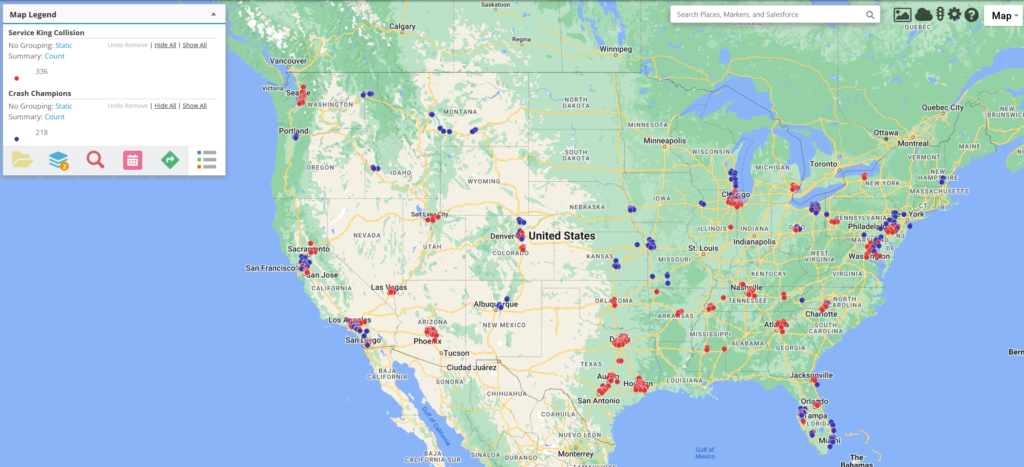 Texas – The Grand Prize. 96 locations in a state where Caliber dominates and Gerber is a weak third player. The original Service King locations owned by Eddie Lennox are the core operations in the best performing region for Service King.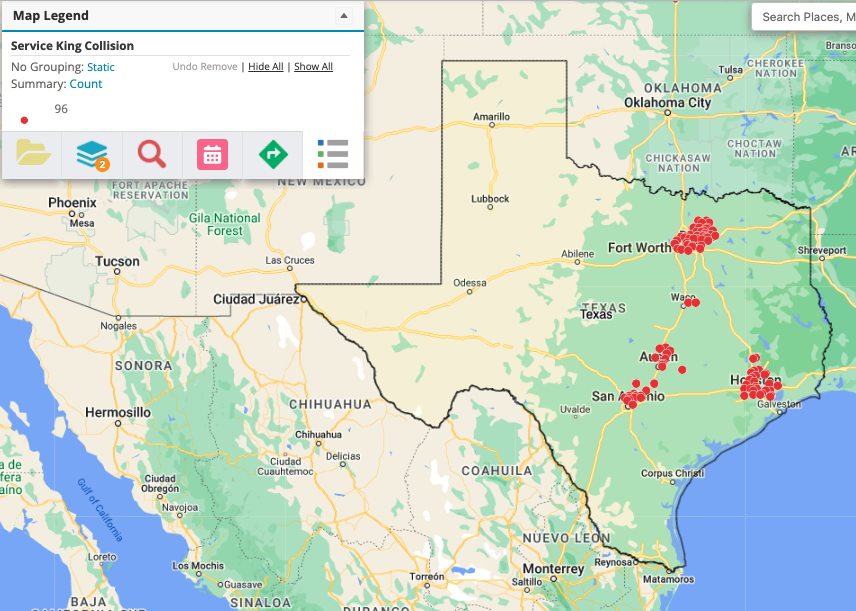 Market Overlaps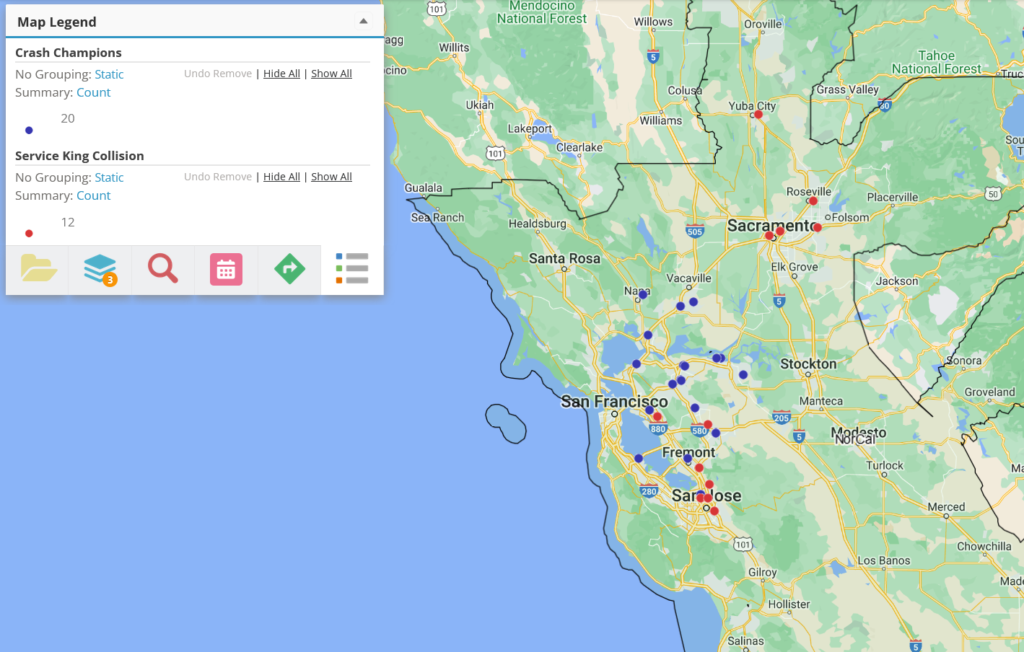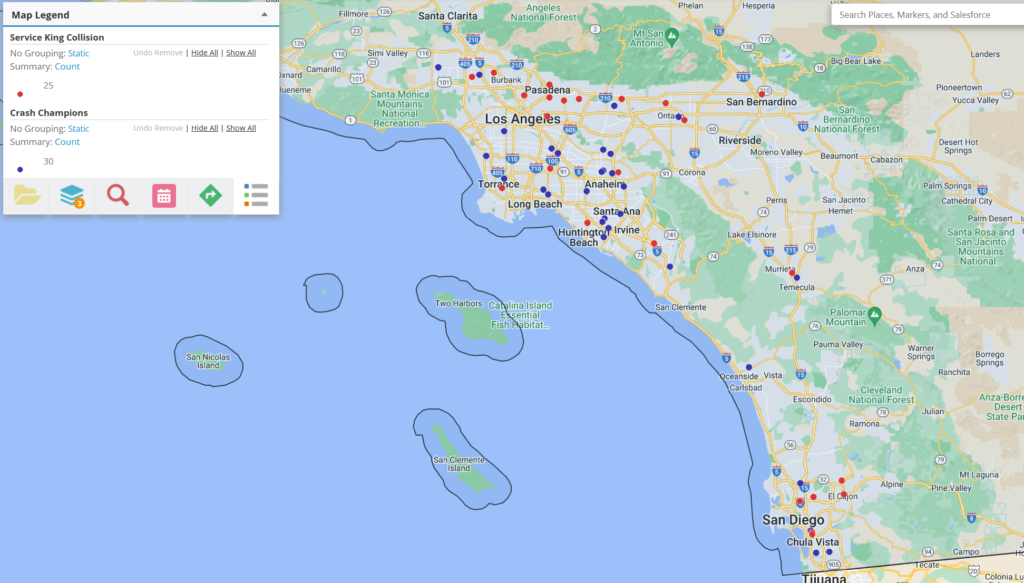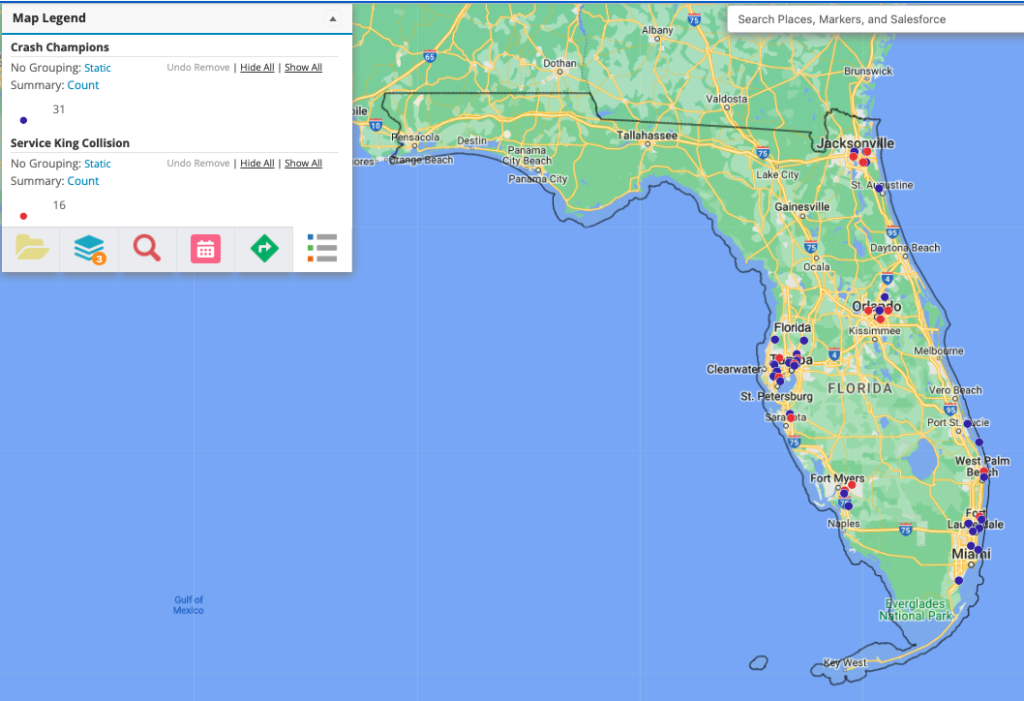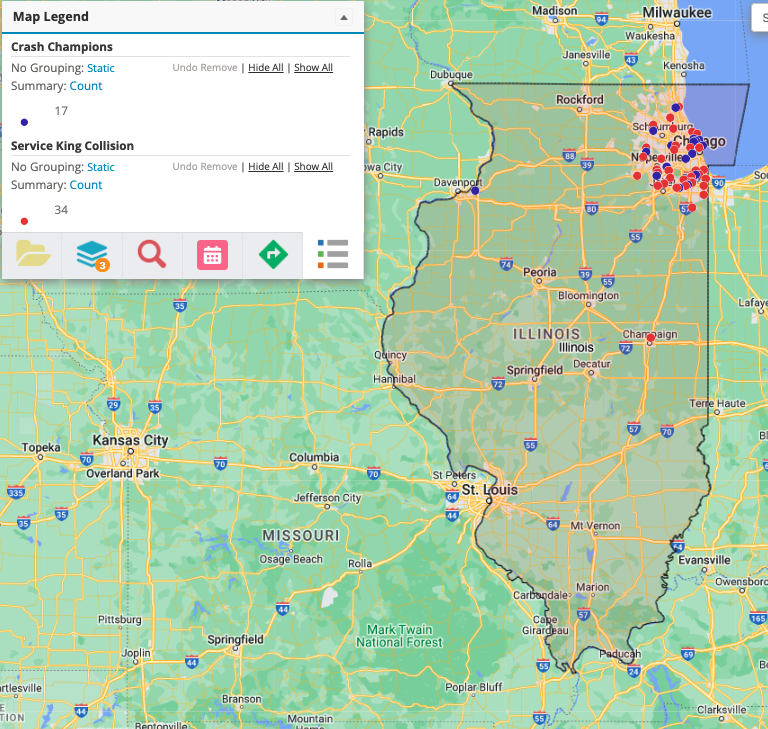 What to Expect Next
As the national map demonstrates, the extraneous markets of the combined firm without critical mass may become available to other regional MSOs. One of the challenges will be prioritizing scarce management talent to the most EBITDA productive markets.
Expect some further combinations among the next tier of multi-regional MSOs.
Expect more investment interest in the collision repair industry among private equity firms.
With three multi-billion revenue firms, the probability of further consolidation continues to increase.
Focus Advisors is the industry's go-to M&A firm for owners looking to exit. Over the past 7 years, Managing Director, David Roberts has led more than 40 transactions totaling more than $500 million and more than 300 collision repair shops. For a confidential discussion about your plans, contact David Roberts at [email protected] or call 510-444-1173.
Investment banking and securities offered through Independent Investment Bankers, member SIPC/FINRA. Focus Advisors and Independent Investment Bankers are not affiliated.