The acquisition and development strategies of key consolidators have come more sharply into view during 2022. The Big Five deepened and diversified their offerings. The Accelerating Competitors continued to ramp up their growth. The Newcomers established geographic diversity. And more private equity firms than ever kicked lots of tires looking for their entry platforms.
How Consolidators Grow
The well-established development path for consolidators continues to guide most of the players in the industry. Start with a quality platform, bolt on complementary operations, expand to additional markets, invest in more professional and experienced management, acquire larger local and regional MSOs, deliver more comprehensive and competitive solutions to big insurers, establish brownfield and greenfield development teams, bolt on more capital, expand to compete effectively in more regional markets, rebalance growth from acquisitions to brownfield and greenfield openings, offer national solutions to carriers and diversify revenue streams
Most new consolidators are following the early strategies of Caliber, ABRA, Gerber and Service King – acquiring key platforms and adding on complementary shops to increase market presence and then entering new markets in a similar fashion.
Some of the more recent consolidators are well into the second stage of development, each continuing to bulk up market by market and integrating their services to provide more consistent performance to insurers across larger and larger geographic areas.
Only a few have reached the third stage, increasing the proportion of brownfield and greenfield development vs. acquisitions and establishing complementary diversification revenue streams.
Why Brownfield and Greenfield Development?
In the short run, compared to acquisitions, expansion by brownfield/greenfield development involves long lead times and slower revenue and EBITDA generation but with significantly lower capital costs. Buying a top performing $6 million shop with 14% EBITDA might cost of $5 million but it starts delivering immediate EBITDA to the acquirer. Creating the same EBITDA from developing a shop might cost only $1.5 million for improvements, equipment and training in a leased facility but requires a much longer development cycle to reach comparable EBITDA. It takes 1-3 years to go the development route – to acquire ground, build and equip the shop, hire and train the staff, establish the vehicle flows from DRPs and dealers and reach the same EBITDA percentage.
Diversification into complementary revenue streams like glass, ADAS and mechanical were mostly afterthoughts except for Gerber and ABRA, both of which invested in glass early in their evolution. Caliber began its diversification into ADAS, mechanical and glass more than five years ago. Today, almost every consolidator sees diversification as a key element in establishing long term competitive position in an overall industry consolidation.
In a reflection of this evolution, Caliber opened more brown and green field shops in 2022 than acquisitions. While Gerber is much earlier in the development cycle with just 7 brownfield/greenfield shops vs 19 acquired, it has operated as a diversified consolidator almost since its inception with its substantial glass operations. Crash is still in the second stage of bulking up and integrating with its dramatic expansion by acquisition of 33 Service Kings and more than 92 other shops in 2022. Its brownfield and greenfield development and revenue diversification is just beginning.
The Big Five Consolidators
Caliber remains the collision repair industry's largest consolidator – now approaching $6 billion in sales. In 2022, Caliber grew its national footprint from 1,400 shops in 2021 to more than 1,550 with a significant emphasis on brownfield and greenfield developments. This growth was mainly focused in Texas, the Midwest, Southern California, and the Mid-Atlantic. During the year, acquisitions of MSOs was very limited compared to prior years. They acquired one six-shop MSO in Gulfport, MS, one three-shop MSO in La Crosse, WI, and seven two-shop operators throughout the Midwest and the South.
The largest growth story of the year was Crash Champions' merger with Service King in July, emerging as the nation's third largest consolidator after Caliber and Gerber with nearly $2 billion in combined sales and 560 shops at the time of the announcement. This merger combined Crash's 225 locations with Service King's 336 locations, giving it a significant presence in Texas, Arizona, Nevada, Georgia, North Carolina, Tennessee, and Illinois – all areas where Service King had strong footholds. In addition to the Service King merger, Crash Champions made large, targeted acquisitions in the Northern California market, adding the 16-shop Mike Rose's MSO, the 7 shop Pan American Collision Centers in San Jose, the 4 shop Blake's AutoBody in San Rafael and 14 other small MSO and single shop acquisitions. At year end Crash was operating almost 600 total locations.
Gerber/Boyd Group, meanwhile, had a relatively quiet 2022 in terms of acquisition activity, acquiring a total of 19 shops, which is a far cry from the 97 shops they acquired in the US in 2021. With an additional 7 new brown and greenfield startups, they ended the year with 735 US shops and an estimated $2.4 billion in sales.
Classic Collision continued to rapidly grow its footprint across the US, and in November opened its 200th center, having added over 40 shops throughout the course of the year. That represents significant growth since Classic partnered with New Mountain Capital back in January 2020, when it was just a 34-shop MSO. Classic acquisitions were largely of single-shop or two-shop operators in multiple geographic areas but with a focus on Florida and the Southeast region, including the three shop Premier Collision Centers in Duluth, GA, right near Classic's home base of Atlanta.
Joe Hudson's began to re-accelerate its acquisitions after naming a new CEO, Brant Wilson. Starting 2022 with 137 locations, they added 19 more single-shop locations, largely in the Southeast and Midsouth.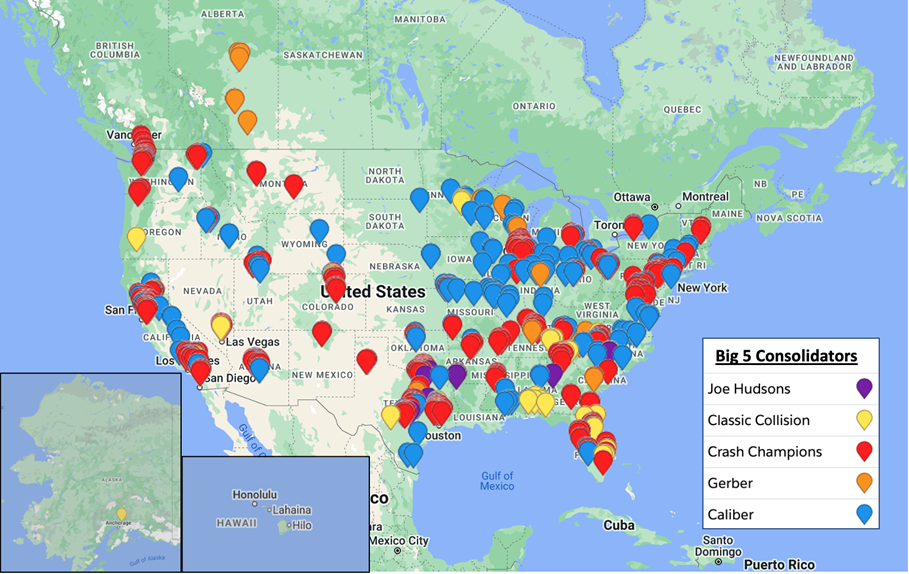 Accelerating Competitors
Four of the more recent entrants are the fastest growers. CollisionRight, founded in late 2020 by Rich Harrison and sponsored by Dallas-based CenterOak, has been on a more aggressive acquisition path. Headquartered out of Columbus, OH with a focus on Midwest and East Coast markets, CollisionRight made 37 acquisitions in 2022, almost doubling their preexisting footprint bringing their total to 75 shops. Their largest acquisitions were the four shop Mills Body Shops MSO in Evansville, IN (represented by Focus Advisors), and the four shop Select Collision Group in Mechanicsburg, PA.
Others among this group of consolidators include Kaizen Collision under the leadership of Jacob Tilzer and PE sponsor, LNC Capital. Kaizen more than doubled its footprint to 51 shops with major acquisitions in Nebraska and Colorado including greenfield. Another fast growing consolidator, Quality Collision led by CEO Jerod Guerin, quietly doubled its footprint to 32 locations with multiple acquisitions in Northern CA and Pennsylvania.
Newcomers
Newcomer VIVE Collision led by Vartan Jerian with PE backing from Garnett Station almost doubled its shop count to 19 by year-end, all in the Northeast.
Puget Collision, a Seattle based FixAuto operator, launched a rollup of CARSTAR and Fix Auto franchisees in the Northwest. Sponsored by PE firm Eagle Merchant Partners of Atlanta, Puget is led by experienced former Gerber executive, Joe Morello.
Another private equity backed newcomer, OpenRoad, funded by private equity firms Trivest Partners and LP First Capital, is expanding across the Southwest and Mountain West regions. Jim Guthrie now leads this combination of four substantial Southwest MSOs including Car Crafters (Albuquerque), 1st Choice Collision (Houston), Helotes Collision (Helotes, TX), and Drury and Moss Body Shops (Amarillo, TX).
Other new entrants included BrightPoint, a family office that acquired two Red River shops in Louisiana (represented by Focus Advisors).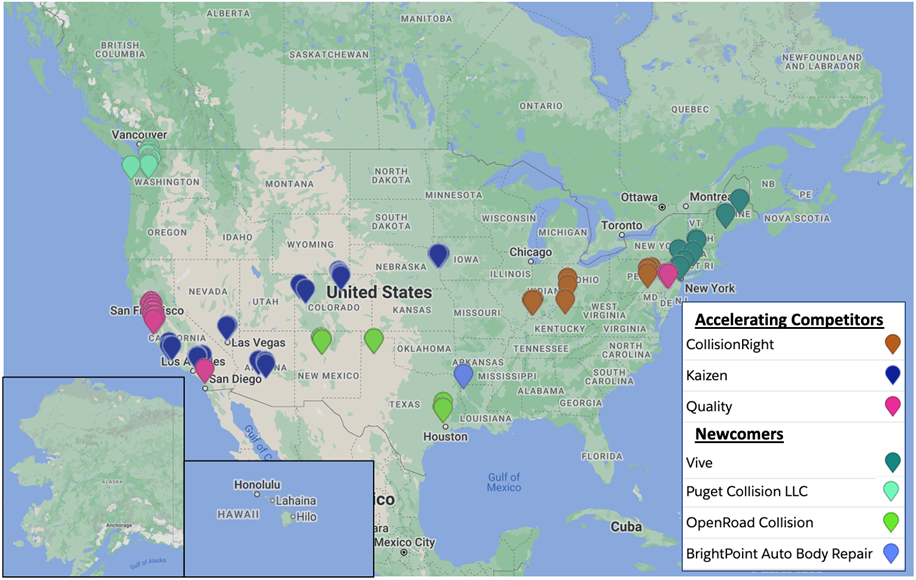 Private Equity – An Expanding Group
Currently, more than 17 private equity firms have now invested in the industry. Another 11 private equity firms are searching for their first platform or participation in one of the existing consolidators.
Focus Advisors will publish more thoughts and comments on the private equity industry investment in collision repair in a subsequent article.
Franchisors and Networks
The dominant collision franchisor, Driven Brands, includes ABRA, CARSTAR, Fix Auto, and Maaco. We estimate Driven ended the year with more than 430 US CARSTAR locations, 58 ABRA locations, and 186 Fix Auto USA locations. While simultaneously growing its total location counts, Driven has had to contend with an increasing number of its long-time franchisees selling out to various consolidators.
Private equity has helped drive Driven Brands growth for more than 15 years. Driven first became involved in the collision industry in 2008 with its acquisition of the MAACO franchising. With continuing support from several private equity firms including Carousel Capital and Roark Capital, Driven acquired the Carstar franchise organization in 2015, followed by their 2020 acquisitions of the ABRA and Fix Auto USA franchises. During 2020, Driven Brands also entered the glass business and has subsequently grown its glass servicing to 175 locations and over 700 mobile units, according to their website.
As noted above, private equity investor Eagle Merchant Partners has helped Puget Collision acquire multiple CARSTAR franchise shops in the Seattle market and expects to continue growing its footprint in several western states.
The only true collision repair franchise competitor to Driven Brands in the US now is ProColor, an affiliate of Mondofix, the Canadian owner of the Fix Auto brand, which entered the US market in 2020. ProColor now has 9 franchisees, all in California.
As for the remaining affiliate networks, Certified Collision Group under the leadership of CEO Marty Evans, partnered with Incline Equity in a recapitalization in May 2022. At the time of that announcement, they had 740 collision repair shop partners.
1Collision, now a division of CSN, continued to expand its banner network into more states under the continuing leadership of Jim Keller. At year end 2022, they had more than 42 US affiliates.
Expectations for 2023
With the exception of Crash Champions, the acquisitions by Gerber and Caliber slowed in 2022 and their acquisition valuations also compressed very modestly. The competition from new private equity-backed groups actually improved acquisition valuations overall as more competitors successfully entered the industry. This continuing strong interest in the collision repair space is driven by its strong fundamentals and anti-cyclical nature, as well as the long runway ahead for further consolidation. Throughout 2022, new buyers continue to be interested in larger platforms with a full roster of management and staff. All buyers have demonstrated a willingness to pay up for OE certifications, glass installation, and ADAS scanning/calibration.
The pace of acquisitions in 2023 is expected to increase for the Big Five and continues to be robust for all the others. And the path of growth follows where the people moving. That's why there is strong interest in shops in Texas, Florida, North Carolina, and Georgia.
With the rising cost of capital and a protracted technician shortage, the larger consolidators may choose to pay less of a premium to acquire and then integrate new shops and instead focus on strengthening their existing holdings. New entrants are expected to continue their aggressive growth trajectories. We may also see several recapitalizations among consolidators as they seek additional funds to expand.
The Most Notable Acquisitions of 2022
Focus Advisors maintains an extensive proprietary database that includes information on every MSO and most individual shops across the US and most of Canada. While not exhaustive, we note the following significant transactions that occurred during 2022.
| | | | | |
| --- | --- | --- | --- | --- |
| Shop Name | Shops | Acquirer | City | State |
| Service King Collision | 336 | Crash Champions | National | |
| Mikes (Rose) Autobody | 16 | Crash Champions | Concord | CA |
| Carstar Tracey Copeland Group | 8 | Puget Collision LLC | Spanaway | WA |
| Pan American Collision Center | 7 | Crash Champions | San Jose | CA |
| Advanced Collision Services Inc. | 6 | Caliber Collision Center | Gulfport | MS |
| Great Plains Collision | 6 | Kaizen | Omaha | NE |
| Capitol Body Shop | 5 | Crash Champions | Ridgeland | MS |
| Car Crafters Inc | 5 | OpenRoad Collision | Albuquerque | NM |
| Great Plains Auto Body | 5 | Kaizen Collision Center | Omaha | NE |
| 1st Class Auto Body Shops | 5 | Crash Champions | Bellingham | WA |
| Fix Auto Mike Garland | 5 | Quality Collision Group | Freedom | CA |
| Blakes Auto Body | 4 | Crash Champions | Rohnert Park | CA |
| Brooks Motor Cars | 4 | Quality Collision Group | Oakland | CA |
| Mills Body Shops | 4 | CollisionRight LLC | Evansville | IN |
| Select Collision Group | 4 | CollisionRight LLC | Mechanicsburg | PA |
| Gate City Collision Centers | 3 | Crash Champions | Nashua | NH |
| Cable Dahmer Body Shops | 3 | Crash Champions | Independence | MO |
| A Good Shop Auto Body & Paint | 3 | Kaizen Collision Center | Northglenn | CO |
| Premier Collision Centers – GA | 3 | Classic Collision | Duluth | GA |
| Collision King Repair Center | 3 | Crash Champions | Lubbock | TX |
| Schaller Jacobson Collision | 3 | Caliber Collision Center | La Crosse | WI |
| Drury and Moss Collision | 3 | OpenRoad Collision | Amarillo | TX |
| First Choice Collision – TX | 3 | OpenRoad Collision | Conroe | TX |
Post 2022 Year-end Acquisitions Jump in January
In the first three weeks of 2023, more than 45 acquisitions have been announced. Some were transactions planned for 2022 but got delayed for one reason or another. But more than half were clearly part of a new and perhaps more aggressive acquisition environment in 2023.
About Focus Advisors:
Focus Advisors is the industry's go-to M&A firm. Over the past 7 years, Managing Director, David Roberts has led more than 40 transactions totaling more than $500 million and more than 300 collision repair shops. For a confidential discussion about your plans, contact David Roberts at [email protected] or call 510-444-1173.
Investment banking and securities offered through Independent Investment Bankers, member SIPC/FINRA. Focus Advisors and Independent Investment Bankers are not affiliated.