The Big Collision Repair Consolidation: Past, Present, and Future Industry Trends
The collision repair industry has experienced dramatic consolidation over the past 25 years, transforming an industry that was once comprised of over 50,000 small businesses into one increasingly dominated by large national operators. David Roberts, Managing Director at Focus Advisors Automotive M&A, provided invaluable insights into the past, present, and future of this consolidation trend during his presentation at the 2023 MSO Symposium in Las Vegas. Focus Advisors is the collision industry's leading M&A advisory firm and is a FINRA-regulated investment bank. In the past nine years, David Roberts has led more than 25 completed transactions totaling more than $450 M in revenue, with nearly every consolidator. Focus Advisors frequently publishes articles and data derived from its industry leading database on collision repair shops, MSOs, and private equity sponsors. This article will explore the industry's transformation, key players driving consolidation, and projections for what's to come.
The Early Days of Consolidation
In the 1990s, the collision repair industry was highly fragmented, with over 53,000 shops generating $25 billion in annual revenues. Collision repair was dominated by small mom-and-pop operators, many serving local communities for decades. However, entrepreneurial leaders saw an opportunity to apply economies of scale through consolidation.
One pioneering consolidator was Caliber Collision Centers, founded in 1995 by Matthew Ohrnstein and David Roberts. Caliber raised $125 million in capital by 2000, an impressive sum in the industry at that time, with goals of reaching $1 billion in revenue within 10 years. This seemed bold for a startup consolidator in a fragmented industry. However, Caliber impressively achieved this milestone by 2014, proving the concept of consolidation. As part of his presentation, David shared an image of an Op Ed he wrote for Autobody News in 1995 that predicted that the industry would consolidate.
Today's Collision Repair Landscape
Fast forward to 2023 – the industry landscape is almost unrecognizable from the 1990s. An estimated 31,000 shops now generate $44 billion in collision repair revenues annually. Hundreds of small independent shops continue closing each year. Consolidators have accelerated their growth, with the top 5 major consolidators growing shops at a 25% CAGR over the past decade:
Table 1: Top 5 Consolidator Growth 2013-2023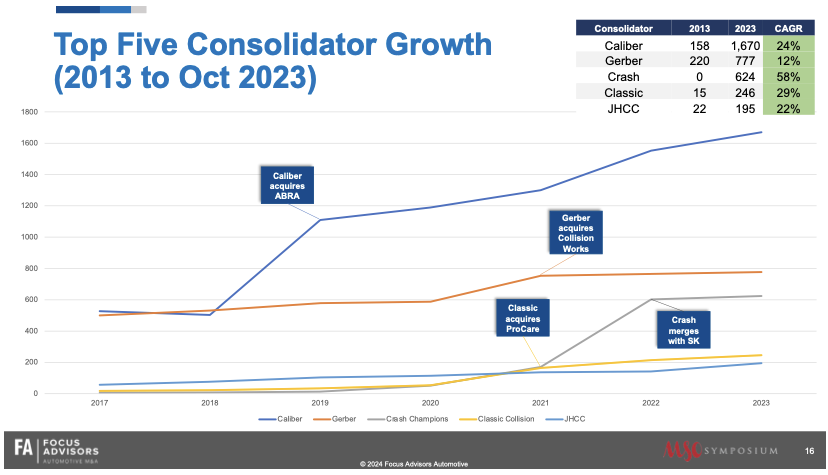 Focus Advisors categorized the leading MSOs into five types of fish in what David called "the ocean in which we swim."
"Whales" are the five leading consolidators.
"Sharks" are other fully launched MSOs with private equity sponsors. Today there are seven with more on the way.
"Big Fish" are independent MSOs with seven or more shops. There are a total of 40.
"Medium Fish" are the 81 independent MSOs with 4-6 shops.
And there are the 679 "Ambitious Fish" which are 2- to 3-shop MSOs.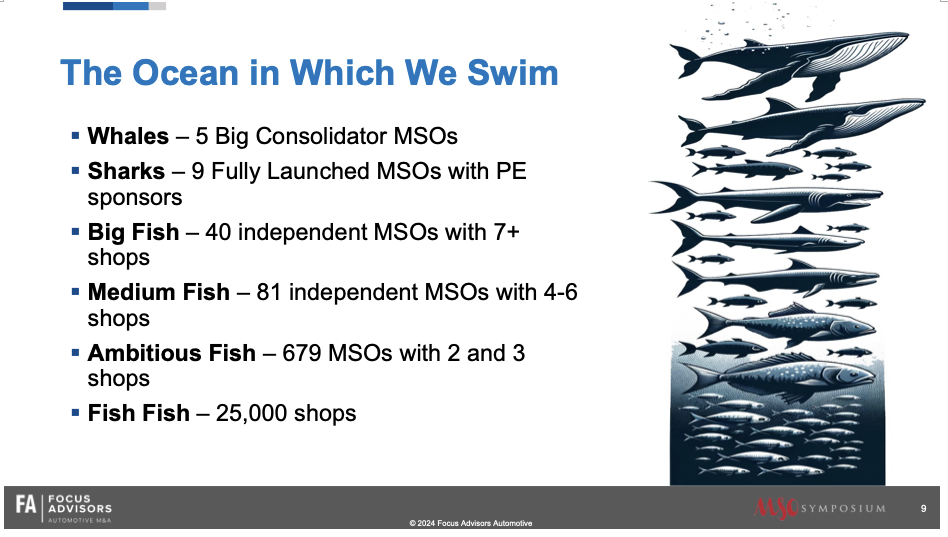 Fueling the Consolidation Fire: Private Equity
The consolidation trend has been accelerated by private equity firms implementing proven industry playbooks:
1. Invest in a platform company and experienced management team
2. Rollup additional locations through acquisitions
3. Improve margins through economies of scale
4. Increase DRP relationships for volume
5. Recapitalize through added debt or additional equity partners
6. Wash, rinse and repeat
Large PE firms like Hellman & Friedman, Clear Lake and New Mountain Capital have made multi-hundred million dollar investments into industry platforms like Caliber Collision, Crash Champions and Classic Collision. Midsize PE firms including Center Oak and Susquehanna Capital have also gotten into the mix, creating consolidators like Collision Right and Quality Collision Group.
This continuing injection of capital from PE along with proven leadership has led to rapid external growth. For example, Crash Champions grew from just 6 shops in 2017 to over 600 shops by the end of 2022 through acquisitions of MSOs like Pacific Elite Collision and independent shops. Gerber Collision also accelerated growth after acquiring large regional MSOs including Collision Works and John Harris Body Shops, growing from just over 500 shops in 2017 to nearly 800 by 2023.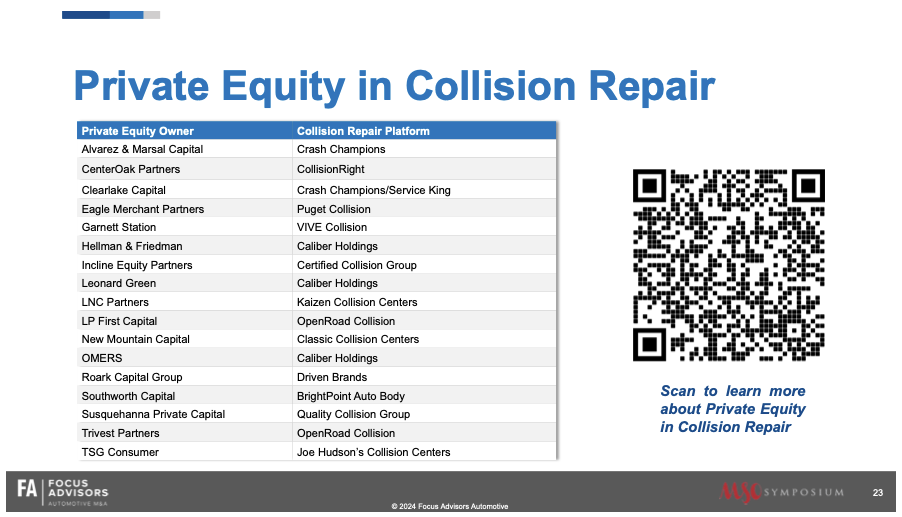 However, not all PE investments have led to successful exits. Early investors like Zurich Insurance, Blackstone and Oak Hill Capital invested early into Caliber and Service King but likely suffered significant losses. So while PE has been a key catalyst for consolidation, it has come with risks.

The Rise of Independent MSOs
While mega-consolidators have gotten much of the spotlight, independent MSOs have also grown rapidly to seize the scale benefits of multi-shop operations. There are now over 40 independent MSOs that operate 7 or more locations according to Focus Advisors' "Focus 40" list. The largest is G&C Auto Body based in California with over 30 shops.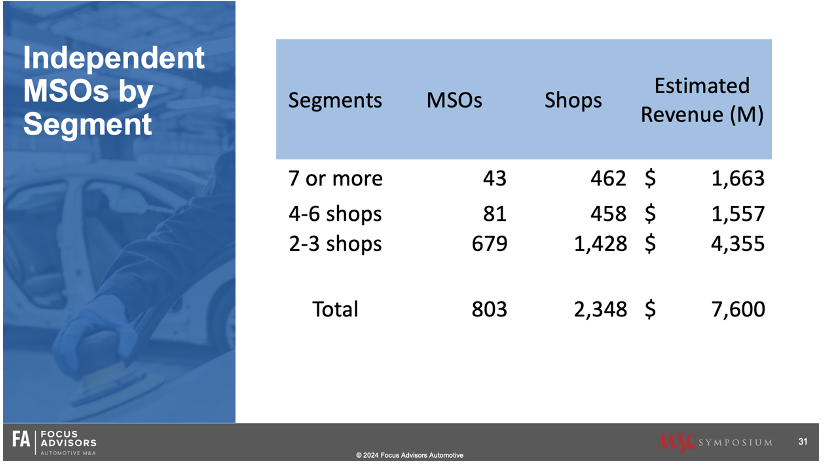 Many regional MSOs have achieved growth rates exceeding 50% in recent years by focusing on underserved markets or repair niches. For example:
– Collision Leaders entered the St. Louis market in 2019 and has since grown to 8 shops with a 700% CAGR by focusing on high-end repairs.
– Texas Collision Centers has rapidly expanded to 7 shops in 2 years driven by high demand across Dallas, Houston and Austin.
– Levander's Body Shops has doubled in size since 2021 to 14 shops by developing in smaller Nebraska cities.
While growing quickly, regional MSOs often reach inflection points where capital constraints, real estate limitations, or owner fatigue lead them to sell to national consolidators. For example, ProCare Collision, Collision Works, and John Harris Body Shops were among the largest regional MSOs in 2021 but have since been acquired by consolidators Classic Collision and Gerber Collision.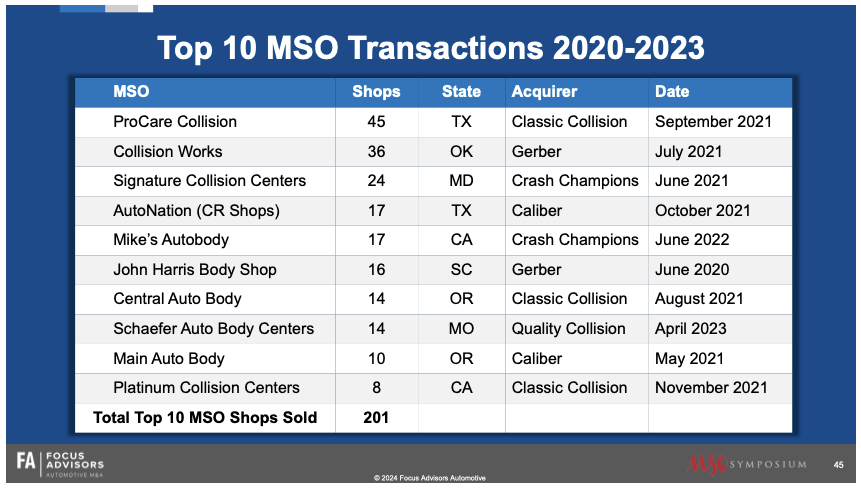 What's Next for Collision Repair Consolidation
Looking ahead, Focus Advisors predicts:
Consolidators will continue aggressive growth through M&A and greenfield expansion, potentially reaching over 50% market share.
The number of consolidators will increase as smaller PE backed platforms rapidly scale through acquisitions and organic growth.
Independent MSOs will continue growing via acquisitions and organic expansion. However, their overall market share will remain constant as small-to-midsize MSOs get acquired by consolidators.
Single shop operators will continue declining in number, requiring them to specialize or join larger networks to remain viable.
The total number of collision repair shops will decline to under 25,000 as weaker operators close. The remaining shops will be higher-quality full-service operations.
Consolidators and MSOs will take over greater responsibility in claims management services.
An increasing number of shops and MSOs will focus on certifications for high-line cars, instead of pursuing DRPs, and will closely align themselves with dealers.
These trends will be driven by the continued influx of private equity investments combined with the growing sophistication and experience of management teams leading industry platforms and regional MSOs. Larger market participants will get bigger. Smaller operators will need to strategically adapt or face going out of business.
The Big Picture: An Evolving Industry
The collision repair industry will continue to experience dynamic change over the next decade. Consolidation is likely to be a constant driving force, not a temporary trend. The "sharks" and "whales" have proven successful at scaling through proven consolidation playbooks. Regional MSOs and smaller operators should thoughtfully position themselves in this evolving landscape.
With adaptability and strategic planning, independent operators will continue to thrive. Acquisitions, greenfield development and merging with other high-growth platforms can all be winning strategies amidst PE backed consolidation. However, the status quo of the 1990s is clearly gone. The industry will continue to transform dramatically over the next 10 years as consolidation accelerates. Companies that strategically adapt to this new environment will thrive. Those that don't will slowly drown in the consolidation wave sweeping over collision repair.